Skip Navigation
Website Accessibility
PH:

(346) 280-7905

Hours: Open Daily: By Appointment Only
Let us create a useable piece of art highlighting your amazing adventures and wonderful memories. You supply the T-shirts and we'll create a cozy keepsake quilt to last a lifetime.

High School Years *Homecoming *Senior Year Events *Favorite Sports Team shirts* Dance or Cheer Groups *College T-shirts* Marathon or Race Shirts*Scouts*Camp T-Shirts *Sorority or Fraternity T-Shirts *FFA and Other School Clubs *Hobbies * Vacations *Concert Shirts*T-Shirt Quilts Make Great Fundraisers (ask us about our $18,000 quilt)
Here is a diagram of the t-shirt quilt components and their names to assist you in understanding the four t-shirt quilt options listed below.
Our Four T-Shirt Quilt Options
Just the Shirts


The Show Off
(Grid Style with 6" border)
Crowd Favorite
(Sashing, cornerstones, and 6" border)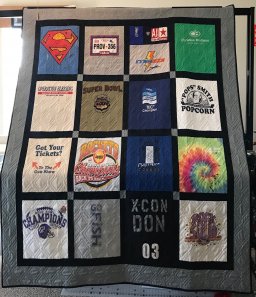 Custom
(One of a kind custom layout)
Getting Started is as Easy as 1 - 2 - 3!
1.
First, sort through your shirts.

We recommend you start by focusing on the shirts that have the most meaning to you or the recipient of the quilt. You decide which shirts MUST be in the quilt no matter what, and let that be your guide as to what size quilt you will need. The shirts will be cut into 14 1/2" squares , so if the design or image is bigger, some of the design will be trimmed off.


2.
Second, let us know what part of the t-shirt you want us to use.
Organize your shirts (or other articles of fabric) into piles based on what side of the garment you would like us to use in the quilt. Do not cut the shirts or write on them with markers. Sort shirts into no more than 4 piles:
Front only, Back only, Front & back and Special Instructions.
Unlike the other piles, each shirt in this pile should have instructions written on painters tape, or a piece of paper attached to it, explaining what you'd like. Examples: "Use Back and sleeve", "Combine this sleeve with the sleeve from red marathon shirt" or "Extra shirt, only use if needed". If we have any doubt about whether to use a shirt, we will contact you.
3.

Third, fill out the order form and send us your deposit.
Just The Shirts- $18/Block
One 6' border
| | | | | | | | | | |
| --- | --- | --- | --- | --- | --- | --- | --- | --- | --- |
| # of Shirts | 9 | 12 | 15 | 16 | 20 | 25 | 30 | 36 | 42 |
| Cost | $162 | $216 | $270 | $288 | $360 | $450 | $540 | $648 | $756 |
| Approx Size in Inches | 54x54 | 54x68 | 54x82 | 68x68 | 68x82 | 82x82 | 82x96 | 96x96 | 96x110 |
The Show Off- $20/Block
Sashing and one 6" border
| | | | | | | | | | |
| --- | --- | --- | --- | --- | --- | --- | --- | --- | --- |
| # of Shirts | 9 | 12 | 15 | 16 | 20 | 25 | 30 | 36 | 42 |
| Cost | $180 | $240 | $300 | $320 | $400 | $500 | $600 | $720 | $840 |
| Approx Size in Inches | 58x58 | 58x74 | 58x90 | 74x74 | 74x90 | 90x90 | 90x106 | 106x106 | 106x122 |
Crowd Favorite- $22/Block
Sashing, cornerstones, and one 6" border
| | | | | | | | | | |
| --- | --- | --- | --- | --- | --- | --- | --- | --- | --- |
| # of Shirts | 9 | 12 | 15 | 16 | 20 | 25 | 30 | 36 | 42 |
| Cost | $198 | $264 | $330 | $352 | $440 | $550 | $660 | $792 | $924 |
| Approx size in Inches | 58x58 | 58x74 | 58x90 | 74x74 | 74x90 | 90x90 | 90x106 | 106x106 | 106x122 |
| Approx Size with Additional 2" Border | 62x62 | 62x78 | 62x94 | 78x78 | 78x94 | 94x94 | 94x110 | 110x110 | 110x126 |