Skip Navigation
Website Accessibility
PH:

(346) 280-7905

Hours: Open Daily: By Appointment Only
Is there someone special you want to Remember? Wrap Yourself in Their Loving Memory

It is hard to know what to do with all of your loved ones' clothes. Why not turn them into a beautiful Memorial Quilt that will bring you comfort and preserve their memorable clothing. Items that can be used are t-shirts, dress shirts, knit shirts, ties, and sweatshirts, to name a few. We can custom design a quilt or use a simple block pattern. Call or contact us for a custom quote. If you love the idea of a Memory Quilt but want something smaller, Memory Pillows are always the perfect answer. Memory Pillows come in 3 sizes: small (14" x 14"), medium ( 16" by 16"), and large (20" x 20").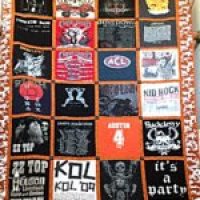 For BEST Results:
All clothes should be washable fabrics: cottons, flannels, t-shirts etc.
Clothes should be washed (no fabric softners please) Dried (no dryer sheets either please) and pressed before sending to us.
Pricing:
Quilt prices start at $300. The cost will be determined based on complexity of the project.
Pillows start at $35 for small (14" x 14"), $40 for medium ( 16" by 16"), and $50 for a large pillow (20" x 20").